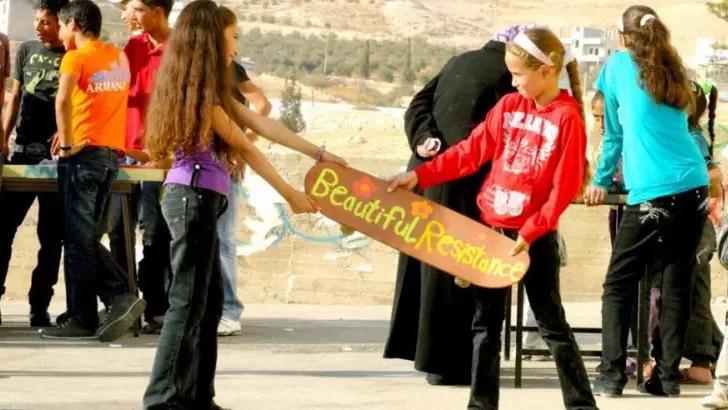 Changemakers for Peace – Young People in Palestine
All Hallows Church, LS6 1NP
Film and Speaker
Films and discussion with Abdelfattah Abusrour, inspirational founder of the Alrowwad Cultural & Arts Society
Abdelfattah Abusrour set up Alrowwad in Aida refugee camp in Bethlehem in 1998. The centre works with children whose every-day reality is oppression and trauma, through performing and visual arts, culture and education.
Their work is based on the concept of 'Beautiful Resistance', a form of creative and peaceful self-expression that aims to save lives, empower young people, inspire hope and build peace within individuals.
It pushes young Palestinians to be peace builders in their communities and beyond through creative and non-violent means. 
"Beautiful Resistance against the ugliness of occupation and violence"
"Everybody is a change maker. Nobody has the right to say, 'I can't do anything,' because otherwise every day that comes will continue to be worse than the day that goes."
Dr Abusrour is an author, actor, and theatre director, with a PhD in Biological and Medical Engineering. In 2005, he abandoned his career in Biology because he believed in the power of arts and culture to re-build humanity, a place where stereotypes vanish and people are on equal grounds.
He is Co-Director of the Bethlehem Cultural Festival. He has conducted practical workshops on the philosophy and practice of 'Beautiful Resistance' in Finland, Spain, Estonia, the UK and the Middle East.